KVK Barwani- An Overview - District Profile
District Barwani was formed on 25th May 1998. It was carved out of West-Nimar, Khargone district. Barwani is situated on the south-west side of Madhya Pradesh as well as holy river Narmada is its northern border. District is surrounded by Satpuda (in South) and Vindhyachal (in North) forest ranges.
The name Badwani originated from the forests of Bad which had surrounded the city in old times. Wani is the old word for the Garden. and hence city got its name Badwani which means Garden of Bads. Barwani is still pronounced as Badwani but it spells Barwani.
KVK Barwani History
Town Badwani was the capital of old Badwani State before 1948. This small State was spared by British, Mughals and Marathas because of its rocky terrain and less productive soil. The Rana dynasty ruled the state throught the history. The history of this dynasty goes back to 13th century.Town Barwani was also know as Badnagar and Siddha Nagar . The place is also famous for Chool Giri , Jain pilgrimage centre of Bawangaja.
Barwani has a Historic Symbol which is known as TIR-GOLA. It is located at Khandwa-Baroda Road, in front of Sagar Vilas Palace and was built in the memory of late son of Raja Ranjit Singh.Before Independence Barwani was known as 'The Paris of Nimar'
Staff position:
| | | | | | |
| --- | --- | --- | --- | --- | --- |
| S.No. | Photo | Name of the incumbent | Designation | Academic Qualification | Field of Specialization |
| 1 | | Dr. S.K. Badodiya | Senior Scientist & Head | Ph.D. | Agriculture Extension |
| 2 | | Dr. Dinesh Kumar Jain | Scientist | Ph.D. | Horticulture |
| 3 | | Dr. D.K. Tiwari; | Progrramme Astt. (Agronomy) | Ph.D. | Agronomy |
| 4 | | Mr. Mukesh Banel | Progrramme Astt. (Horticulture) | M.Sc. | Horticulture |
| 5 | | Mr. U.S. Awasya | Progrramme Astt. (Computer) | MCA | Computer Application |
| 6 | | Mr. R. Bara | Account Officer | M.A. | Accounting work |
| 7 | | Nand Kishor Parte | Driver | 8th | Driving |
District Barwani at a Glance
<![if !supportLists]>1. <![endif]>Agro-climatic Zone                 -           XI. Nimar Valley (Cotton-Jowar Crop Zone)
<![if !supportLists]>2. <![endif]>Latitude                                  -           21º 37' to 27 º 22' North
<![if !supportLists]>3. <![endif]>Longitude                               -           74º 37' to 75º 37' East
<![if !supportLists]>4. <![endif]>Altitude                                   -           300 m from MSL
<![if !supportLists]>5. <![endif]>Climate                                    -           Dry climate (hottest belt of the country)
<![if !supportLists]>6. <![endif]>Average rainfall                      -           773 mm
<![if !supportLists]>7. <![endif]>Temperature                            -           Maximum 43º C to 47º C
                                                                        Minimum 8º C to 25º C
<![if !supportLists]>8. <![endif]>Soil Type                                 -           a. Clay loam (Black soil)
                                                                        b. Clay loam to clay (Alluvial)
                                                                        c. Sandy loam to clay loam (Alluvial)
                                                                        d. Sandy clay loam to clay (Hilly soil)
<![if !supportLists]>9. <![endif]>Representing soil type             -           Medium black soil
<![if !supportLists]>10. <![endif]>Geographical area                   -           370810 ha
<![if !supportLists]>11. <![endif]>Total Population                      -           10,81,039
<![if !supportLists]>12. <![endif]>No. of Tehsils                          -           8 (Barwani, Anjad, Thikari, Rajpur, Pansemal, Niwali,                                                                      Sendhwa, Balwadi)
<![if !supportLists]>13. <![endif]>No. of Blocks                          -           7 (Barwani, Pati, Thikari, Rajpur, Pansemal,                                                                            Niwali, Sendhwa)
<![if !supportLists]>14. <![endif]>Population density                  -           190/sq km
<![if !supportLists]>15. <![endif]>Literacy percentage                 -           41.35%
<![if !supportLists]>16. <![endif]>Adjoining district                    -           Dhar, Jhabua in North, Kharone in East,                                                                                            Maharastra State in West
<![if !supportLists]>17. <![endif]>Rural population                     -           85.35%
<![if !supportLists]>18. <![endif]>SC/ST population                    -           64.83% (SC 54.7%, ST 10.13%)
<![if !supportLists]>19. <![endif]>Total cropped area (ha)           -           161163
<![if !supportLists]>20. <![endif]>Sole cropped area (ha)            -           46896.13
<![if !supportLists]>21. <![endif]>Double cropped area (ha)        -           40654.9
<![if !supportLists]>22. <![endif]>Irrigated area (ha)                   -           15836 (31% of total cropped area)
<![if !supportLists]>23. <![endif]>Forest (ha)                               -           24077
<![if !supportLists]>24. <![endif]>Cultivated area                        -           33.33%
<![if !supportLists]>25. <![endif]>Forest area                               -           50.47%
<![if !supportLists]>26. <![endif]>Barren uncultivated                -           7.07%
<![if !supportLists]>27. <![endif]>Permanent pasture land           -           4.72%
<![if !supportLists]>28. <![endif]>Cultivable waste land             -           1.51%
<![if !supportLists]>29. <![endif]>Non Agriculture land              -           2.90%
<![if !supportLists]>30. <![endif]>Agriculture workers                -           85.35%
<![if !supportLists]>31. <![endif]>Unemployed period                -           4-6 months in off season
<![if !supportLists]>32. <![endif]>Major enterprises                     -           Agriculture, Horticulture, Animal husbandry,                                                                                    Poultry and Forestry
<![if !supportLists]>33. <![endif]>Land use pattern of the district          -
            a. Total cultivable agriculture land      -           33.33%
            b. Forest land                                      -           5.47%
            c. Fallow land                                     -           2%
            d. Other land                                       -           3%
<![if !supportLists]>34. <![endif]>Major irrigation source                                    -           85% irrigation by wells, tube wells &                                                                                                 narmada pipe lines
<![if !supportLists]>35. <![endif]>Irrigation source                                  -
            a. Canals                                              -           14%
            b. Tube wells                                       -           30%
            c. Wells                                               -           55%
            d. Ponds                                              -           1%
<![if !supportLists]>36. <![endif]>Land holding pattern              -
            a. Large (>10 ha)                                 -           6%
            b. Medium (4-10 ha)                           -           24%
            c. Semi Medium (2-4 ha)                    -           27%
            d. Small (1-2 ha)                                 -           26%
            e. Marginal (<1 ha)                              -           17%    
<![if !supportLists]>37. <![endif]>Livestock position                               -          
            a. Cows                                               -           55%
            b. Buffaloes                                        -           17%
            c. Goat & Sheep                                  -           28%
            d. Total poultry                                   -           357172
<![if !supportLists]>38. <![endif]>Major crops                                         - Cotton, Soybean, Jowar, Maize, Bajra, Arhar,                                                                       Moong, Urd, Groundnut and Chilli in Kharif and                                                                 Wheat and Gram in Rabi
Block wise basic information
S.No

Parameters

Name of Blocks

Badwani

Pati

Thikri

Rajpur

Sendhwa

Niwali

Pansemel

1

Soil Type

Medium to light black

Medium to black light

Light sandy loam to medium black

Light sandy loam to medium black

Medium sandy loam to black

Sandy loam to light black

Medium to light black

2

Rainfall

650-720

660-735

640-710

670-730

650-725

650-720

650-720

3

Total Area, ha

45782

47032

56575

75572

81706

35239

29424

4

Cultivated area, ha

29408

24586

34594

45867

54785

23733

24395

5

Irrigated Area, ha

121165

4537

17215

18139

11496

6155

14879

6

Fellow area, ha

1221

1360

1411

2979

1267

1026

4350

7

Cropping intensity

119

110

115

120

120

115

120
Mandate of KVK:
MANDATES
Technology assessment, refinement and demonstration of technology / products
THRUST AREAS
| | |
| --- | --- |
| KVK Name | THRUST AREA |
| Badwani | Integrated Crop Management |
| Badwani | Integrated Disease & Pest  Management |
| Badwani | Income generation activities for empowerment of rural youth |
| Badwani | Drudgery reduction for farm women |
PROBLEM IDENTIFIED
| | | |
| --- | --- | --- |
| KVK Name | Problem identified | Methods of problem identification |
| Badwani | Intensive and continuous cotton production resulted increasing use of fertilizer & low productivity. | PRA and Farmers Meetings |
| Badwani | Area and productivity of cereal and oilseed crops, particularly soybean is towards declining trend. | PRA and Farmers Meetings |
| Badwani | Indiscriminate and non judicious use of pesticides specially in chilli for controlling the leaf curl diseases. | PRA and Farmers Meetings |
| Badwani | High level of drudgery during agricultural operation by farm women  | PRA and Farmers Meetings |
Details of Instructional farm
| | | | |
| --- | --- | --- | --- |
| Total area of KVK | area of farm | area under cultivation | area under adm.bulding |
| 20.57 | 15.00 | 15.00 | 2.5 |
Outreach of KVK
<![if !supportLists]>a. <![endif]>Map  indicating following information's through separate symbol
<![if !supportLists]>· <![endif]> <![if !vml]>

<![endif]>Adopted villages
<![if !supportLists]>· <![endif]> <![if !vml]>

<![endif]>OFT &FLD
<![if !supportLists]>· <![endif]><![if !vml]>

<![endif]>Trainings
<![if !supportLists]>· <![endif]>KMA
<![if !supportLists]>· ; <![endif]><![if !vml]>

<![endif]>Others if any



<![endif]>

<![endif]><![if !vml]>

<![endif]><![if !vml]>

<![endif]><![if !vml]>

<![endif]><![if !vml]>

<![endif]><![if !vml]>

<![endif]><![if !vml]>

<![endif]><![if !vml]>

<![endif]><![if !vml]>

<![endif]><![if !vml]>

<![endif]><![if !vml]>

<![endif]><![if !vml]>

<![endif]>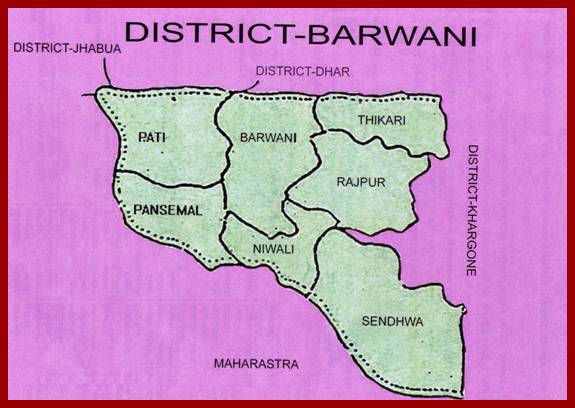 <![endif]>
(b) Coverage of Area
S.No

Block

Villages

Percent converge

(out of total villages)

1

Badwani

Kasrawat, Kalibedi, Pichodi, Kathora, Palya, Balkuwa, Tallon, Pipari, Kundiya, BhilKheda, Nanhi Badwani, Rahgun, Sanjwani, Borlai, Dhanora, Kari, Bagud. Piplad, Lonsara, Silawad, Medimata, Utawad, Badwani

2

Thikari

Anjad, Fatyapur, Barla, Surana, Haribad, Mandwada, Bawadia, Kuwa, Dawana, Kerwa, Keshawpura, Mohipura, Datwada

3

Rajpur

Chhotikhargone, Singun, Mandil, Semalkhodra, Nandgaon, Pulsud, Rajpur

4

Pansemal

Pansemal

5

Sendhwa

Balwadi, Sendhwa

6

Niwali

Niwali

7

Pati

Pati, Bograta
(B) Demographical information of district:
<![endif]><![if !mso]>

<![endif]>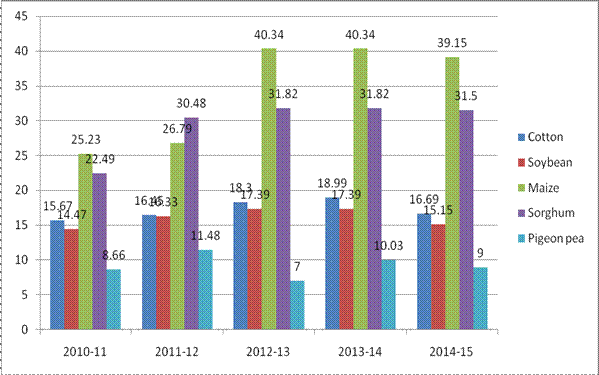 <![endif]>

<![if !mso]>
Productivity (q/ha) of Major Agriculture Crops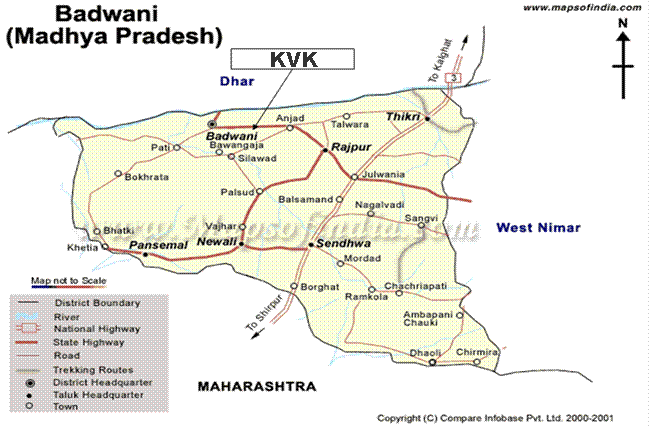 Pattern of the district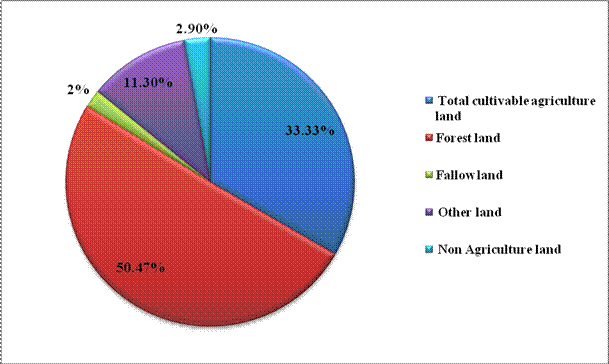 <![endif]>

B.Irrigation source:
Area of Major Agriculture crops (Kharif)
Area of Major Agriculture crops (Rabi)
Productivity (q/ha) of Major agriculture crops (Kharif)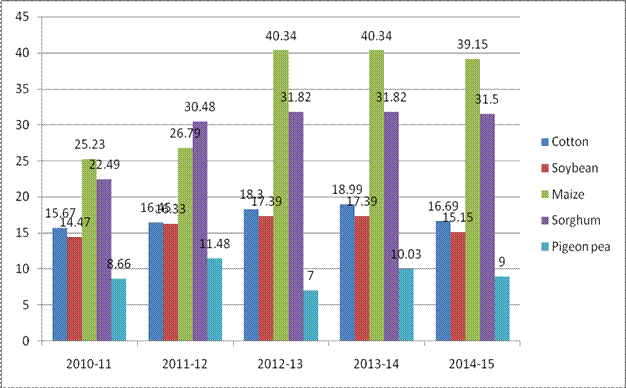 Productivity (q/ha) of Major agriculture crops (Rabi)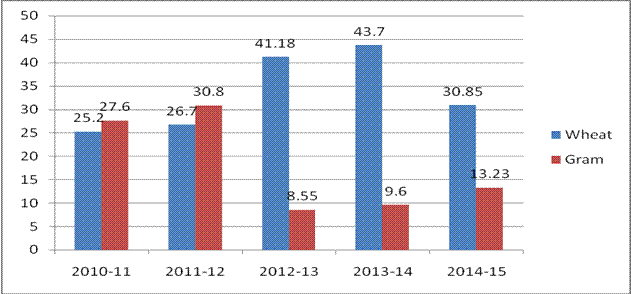 <![endif]>
Area of Major Horticulture crops
Productivity (q/ha) of Major Horticulture crops
Map of Soil type
Nimar valley Zone
<![endif]>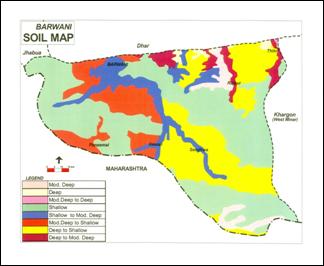 <![endif]>
(Source : NBSS&LUP, Amravati Road, Nagpur)
activities